Discover more from Inside Medicine
Merging what I'm seeing in the ER with rigorous deep-dives on the very latest medical and public health data. I want you to know what really matters.
Over 35,000 subscribers
When will one-way masking be safe enough for everyone?
The CDC's new mask guidelines don't keep the immunocompromised safe and most experts don't know. So, I ran some numbers.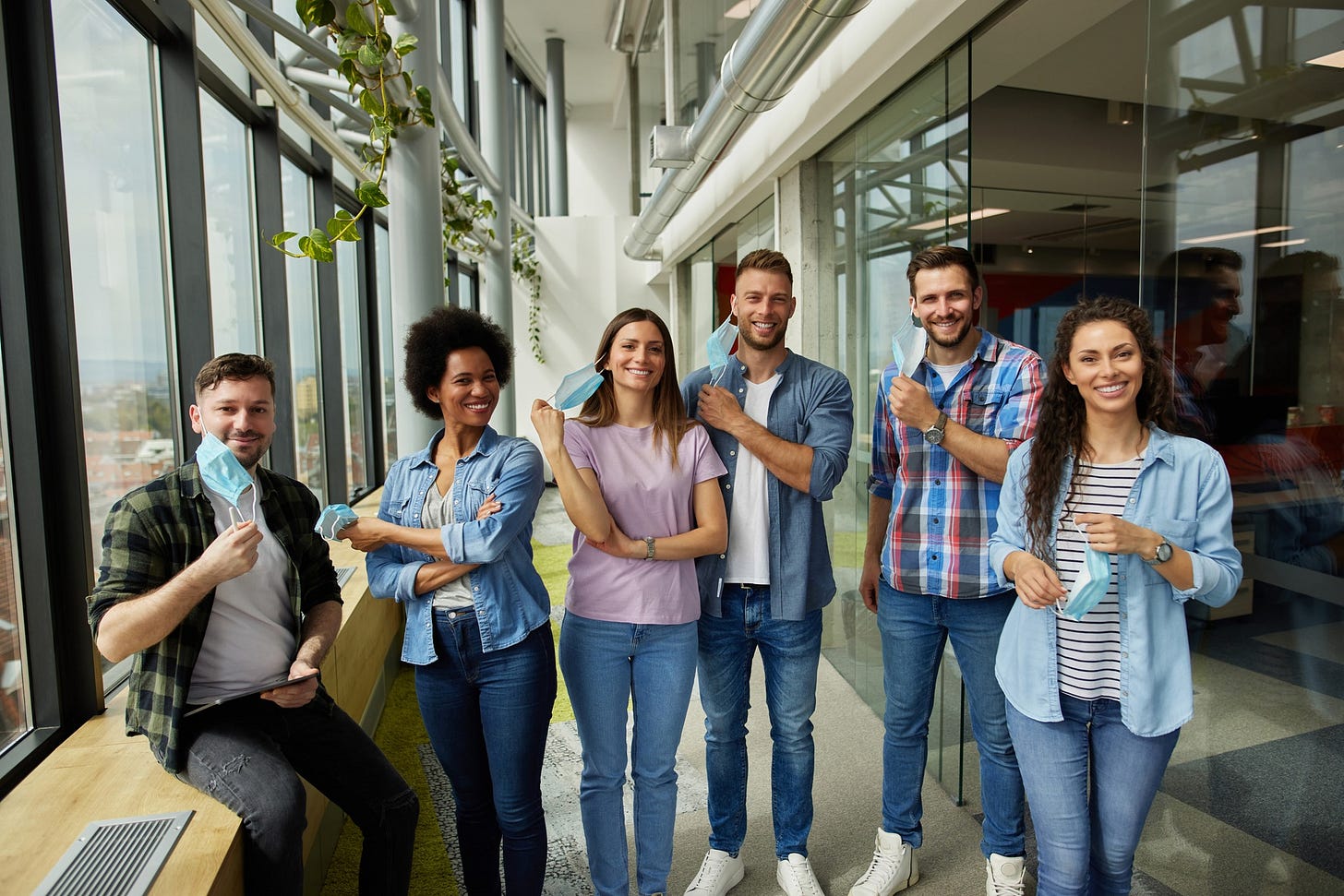 Last month, the US Centers for Disease Control changed its mask guidance. Overnight, most regions in the United States went from high to low risk. The CDC's new approach was said to reflect new goals. Rather than eliminating transmission, mask use would now be aimed at keeping cases low enough that hospital capacity would not be threatened, and that particularly high-risk people would be protected.
My reaction was that the CDC's approach could be successful in achieving the first goal (and in fact it resembles the framework behind my team's hospital capacity dashboard), but not the second.
So, I asked a handful of thoughtful experts from a range of backgrounds—who I know to be on the cautious end of the spectrum and who would have high thresholds to remove mask mandates—for a concrete metric that would indicate when mask mandates would be safe to drop.
As I expected, all of them felt that the CDC's new guidance dropped mask mandates "too soon." But what I was really after was a clear-cut condition that even they'd be comfortable with for dropping universal indoor masking. Put another way, at what point would one-way masking be adequate protection for the most immune-compromised in our communities?
Many of them responded with thoughtful conceptual frameworks. But only one, Dr. Gregg Gonsalves of the Yale School of Public Health, floated an objective metric that we could aim for (I won't give away what he said yet).
So, I decided to reverse engineer my own metric. The result is admittedly a trial balloon, but I want to share with you how I came up with it, and what the outcome threshold might be.
My reasoning is that if our goal is to protect the most immune-compromised members of the community—people in whom vaccines provide zero protection against infection let alone severe disease—then perhaps it would be acceptable to drop indoor mask mandates when case counts are low enough that the highest-risk adults can attend to something like daily living and have less than a 1% chance of becoming infected with SARS-CoV-2 in a 4-month period.
To back-calculate the case counts that we'd need to have—an exercise which was somewhere between "back of the envelope math" and formal modeling—I had to make a few assumptions. First, I assumed that all immune-compromised people would wear well-fitting N95 masks when in public and that these masks work as well as studies suggest. I assumed that everyone would have access to Evusheld, a prophylactic medication that has been shown to reduce infections temporarily in this high-risk group; this is the major weakness of this framework, since right now, Evusheld is not being used enough.* Next, I created an "itinerary," reflecting what I thought might reflect a typical immune-compromised person's public life. The itinerary included a weekly trip to a medium-sized grocery store, a monthly trip to a pharmacy, one random monthly indoor event (with no testing) with 50 people, twice monthly attendance at a medium-sized church (100 people, no testing), twice weekly 60-minute roundtrip bus rides, and one big trip requiring the use of a major airport. You'll note that I did not include indoor dining (where masking is impossible, other than by staff), in-person work, or more routine (daily) public transportation use. That's because if I included any of those, the model would fall apart; we'd need to get cases to exceedingly low levels, which isn't feasible right now. Also, prior to the pandemic, any immune-compromised people who were healthy enough to work and use public transportation daily (or go to restaurants routinely) during the peak of cold and flu season (December-March) were shouldering higher personal risks than they would under the threshold I'm floating here. You'll note that I also did not include small indoor gatherings taking place inside of people's homes. That's because with on-site rapid testing (now relatively easy to get, and free with insurance), the risk is essentially negligible. I also had to make a handful of epidemiologic assumptions (If you're interested in the details, I've included them at the bottom of this article).**
•••
Here's what I came up with: for a person doing all of the activities above (or similar), we'd need to keep SARS-CoV-2 under 50 cases per 100,000 people weekly, if one-way N95 masking in those public settings were to be safe enough that the 4-month risk of infection would be under 1% for an immune-compromised person in whom vaccines offer no protection.
That figure is striking—almost uncanny—because it falls right at the upper limit of the CDC's old "moderate transmission" category, which was the agency's previously stated threshold (from July 2021) for advising universal indoor masking regardless of vaccination status. It's also the exact proposal that Dr. Gregg Gonsalves had proposed to me a couple weeks ago! For the United States, it would mean around 25,000 new cases per day (I already baked in the assumption that we miss 2 out of 3 infections).
Can we get there? We actually achieved that during the end of May, June, and into July last year (but at that time N95 masks were not so widespread, and Evusheld was not available). That means that, yes, this metric is achievable.
I'd also propose that if we were below 50 cases per 100,000 people weekly for a while but inched back up over that threshold (into the CDC's old "substantial transmission" territory), we could temporarily strongly suggest/advise public indoor masking, but keep it strictly optional. Enough concerned people would voluntarily mask that we'd keep the 4-month infection risk below 1% for the high-risk immune-compromised people we're worried about. But if case counts got too high, say above 100 cases per 100,000 people per week (the CDC's previous "high transmission" zone), mandates would again be necessary.
I'm quite struck that the CDC's mask guidance from last year so neatly aligns with the numbers I just came up with. It also turns out that the new CDC guidance really won't protect the immune-compromised (with one-way masking) as intended, unless those individuals are expected to take almost no risks at all. Given that we can realistically achieve the rates that would be needed to keep almost everyone safe with one-way masking for those who need to, I think it's worth considering bringing back the old system.
•••
Right now there are a few resources out there that can help individuals determine their exposure risk for certain activities. But as far as I know, these are for one-off use (i.e. "Is the event I'm about to attend safe?") These tools don't tell us whether, as a society, we are adequately protecting the most at-risk people when we don't mask and what a person with high risks can expect if they live fairly normal lives one-way masking when in public (while nobody else masks). Building an interactive app or dashboard to achieve this wouldn't be that difficult and the tool could be used to customize anyone's "itinerary."
I ran this by some experts, but I'm sure I did not think of everything. And I know this proposal does not address risks for young children who are not yet eligible for vaccination and are too small to wear highly effective masks; for them, the main issue is school/childcare. That means we need to keep fairly intensive testing regimens in place for now, in order to ensure safety.
I am eager to know what people think of this framework and am open to suggestions. Please share them in the comments section below.
•••
❓💡🗣️ What are your questions? Comments? Join the conversation below!
Follow me on Twitter, Instagram, and on Facebook and help me share accurate frontline medical information!
📬 Subscribe to Inside Medicine here and get updates from the frontline at least twice per week.
Thanks to Dr. Jacob Aguilar, Dr. Alyssa Bilinski, Dr. Esther Choo, Dr. Gregg Gonsalves, Dr. Megan Ranney, and the handful of other experts I spoke to about this topic in helping me work through this framework
*Evusheld access is indeed a major problem. In fact, it is such an issue, that I also ran these numbers assuming that few-to-no people had access to the medication. Basically, the result would be that the "itinerary" would need to be altered to make this work (e.g. attending a smaller church, fewer bus trips, or maybe skipping the airport trip). Alternatively, a lower case threshold would be needed to keep us at our goal.
**The model for this framework runs on a few epidemiologic assumptions. These include: 1) coronavirus cases are "active" for 10 days but are only contagious for around 5 days. While some people are likely contagious longer, a very large fraction of spread occurs in the 3-5 days of peak contagiousness; 2) public reporting only detects one-third of all cases; 3) around one-third of infected persons are already aware of their infection and are isolating (i.e. are not out in public); 4) the "attack rate" of Omicron is around 5% per hour (i.e. given close proximity to a contagious person). This is back-calculated from the assumption that 80% of housemates would be infected over a 5-day period. So being around someone for an hour only represents a small percent of that risk; 5) one-way N95 masks reduce the risk of infection by 90%; 6) Evusheld reduces infections by 50% (although the data suggest up to 78%, the real number is likely lower, given Omicron).